Masters Course in Liposuction Techniques| Aesthetic Medicine Training
In Masters Course in Liposuction techniques will take your basic lipo skills to the next level. We will teach you our specialized region-by-region techniques covering the whole body.
You will be taught how to perform muscle etching of the chest, abdomen, arms & back in conjunction with body contouring.
You will learn how to integrate intra-operative & delayed liposhifting contouring all under tumescent local anesthesia.
Cosmetique is the Pakistan's larget and most prestigious organization in aesthetic medicine and cosmetic surgery. Cosmetique is the Pakistan's largest and most prestigious organization in aesthetic medicine and cosmetic surgery. The Cosmetique Institute of Dermatology, Laser & Cosmetic Surgery is the first & the only academic institute in Pakistan specifically devoted to the education of practicing clinicians and post-graduate trainees in the fields of dermatology, laser, hair-transplant, liposuction & a vast array of cosmetic surgery procedures. Most importantly the institute is dedicated and committed to performing the high quality basic science & clinical research and drug trials with special focus on moelecular genetics and innovative therapies . The Institute is the regional center for maintaining registries for rare disorders like Epidermolysisbullosa and XerodermaPigmentosum to name a few. The main focus is placed on the dermatological ailments of special significance to the geographical south Asian region – to promote the research in those diseases which are more prevalent in this part of the world and often ignored by or less funded by mainstream international funding agencies and research forums – to function as a bridge and local collaborator for these international resources of acumen and knowledge. The Cosmetique Institute is an outpatient specialist dermatological center with a team of dermatologists, pathologists and research scientists, who have the experience and expertise to diagnose and treat every skin condition.
Masters Course in Liposuction Highlights
Discuss history and evolution of liposuction
Identify relevant surgical anatomy for areas of treatment
Conduct efficient consultation
Identify indications, contraindications, and proper
preoperative preparation
Topics
History and evolution of Liposuction
Liposuction Relevant Surgical anatomy
Consultation, patient selection
Preoperative preparation
Indications, contraindications
Scribing, medical photography and documentation
Facility, staffing, supplies and equipment
Tumescent anesthesia safety and precautions
Surgical Demonstrations and hands-on
Liposuction of the abdomen and back
Liposuction of the thighs
Liposuction of the neck
Liposuction of the arms
Liposuction of the breast
Board Certification Process
Completion of Step 1 & Step 2 Training
Passing score on written exam
Board Certified American Board of Aesthetic Medicine
Course Faculty
Prof. Dr. Azim Jahangir Khan
M.B.B.S., M.D. (U.S.A), F.A.A.D. (U.S.A), F.A.A.C.S. (U.S.A), F.A.S.D.S. (U.S.A) F.A.S.L.M.S. (U.S.A) F.A.S.H.R.S. (U.S.A) F.A.S.L.S. (U.S.A) M.A.C.P. (U.S.A)
Diplomate, American Board of Dermatology
Diplomate, American Board of Internal Medicine
Fellow, American Academy of Cosmetic Surgery
Fellow, American Society for Dermatologic Surgery
Fellow, American Society for Liposuction Surgery
Fellow, American Society for Hair Restoration Surgery
Fellow, International Society for Hair Restoration Surgery
Fellow, American Society for Laser Medicine and Surgery
Assistant Clinical Professor of Dermatology
The State University of New York (SUNY) at Stony Brook, U.S.A
Professor of Dermatology and Dermatologic Surgery
Allama Iqbal Medical College and Jinnah Hospital, Lahore.
Dr. Saima Malik
M.B.B.S.(Pb), Dip Derm (U.K), M.Sc.(U.K) Dip. Derm (Cardiff University, UK) M.Sc in Dermatology (Cardiff University, UK)
Dr. Asma Sana Azim
M.B.B.S. (Pb); M.D. (U.S.A.); M.A.C.P. (U.S.A): Dip. Derm (U.K.) Diplomate, American Board of Internal Medicine Member, American College of Physicians Diploma in Dermatology (UK)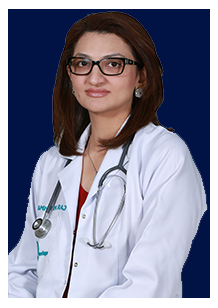 Dr. Amnah M Raj
M.B.B.S.(Pb), Dip Derm (U.K), M.Sc.(U.K), FASDS (U.S.A.) Dip. Derm (Cardiff University, UK) M.Sc in Dermatology (Cardiff University, UK) Fellow, American Society for Dermatologic Surgery (U.S.A)